RedDeer.Games, an independent publisher and developer of Nintendo Switch games, announced cooperation with OOSSO Inc. – a Korean character planning, development, and marketing company. Starting this year, famous in all of South Korea and part of the Asia regions – friendly pets from Uzzuzzu My Pet will start their journey in games and apps designed for all age users of Nintendo Switch.
Until now, Uzzuzzu My Pet – in addition to their popular animated films or mascots-have, settled with more than 8 million Koreans through the CATV, SNS. Besides South Korea, the series and related products are also popular in China and Indonesia. Through the established partnership, starting this year – more people around the world will have a chance to familiarize themselves with these cute Uzzuzzu animal friends.

— Charming and cheerful friends Uzzuzzu My Pet, leading game developer RedDeer.Games of Poland, and OOSSO of Korea are embarking together on an extraordinary journey into the world that I simply cannot wait to see. — said Jong-Se Kim, CEO of OOSSO Inc.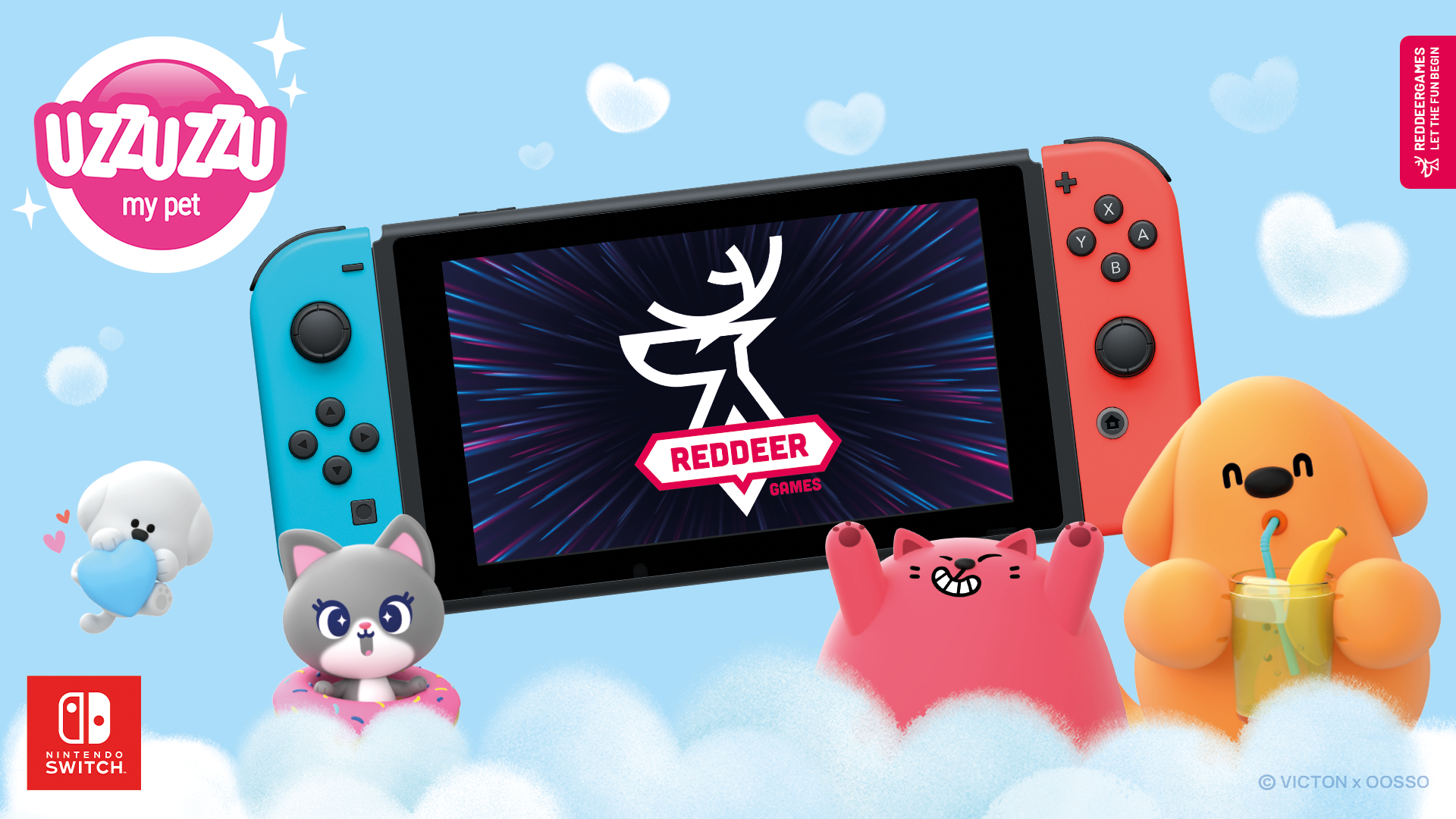 Three projects from Uzzuzzu My Pet coming this year
At the end of the first quarter of 2023 RDG has announced the releases of three titles in the Uzzuzzu My Pet series for Nintendo Switch. The first of which – Uzzuzzu My Pet, with beautiful coloring book will arrive later this year at the end of the first quarter.

Upcoming quarterly plans include the Uzzuzzu My Pet friends clock – which will follow one of the most popular series of apps created by RedDeer.Games. Like the previous apps – users will be able to personalize their clock by choosing their favourite theme, which in this version will be a pet from the Uzzuzzu family, or set the whole pack.
 
The last title announced for this year, will focus on a social game from Uzzuzzu My Pet world, which, along with its characters, will take Nintendo Switch console users on a truly wild and dancey fun get-together with friends.

— I am incredibly happy and proud that OOSSO has entrusted us with its Uzzuzzu My Pet license. This is the beginning of a beautiful adventure and of the expansion to international markets of the popular Korean brand. — says Marta Frankel-Dominik, Publishing Director, RDG.
 
Meet Boo, Tary, Kung and Ta – Korean cute dogs and cats from Uzzuzzu My Pet 
Uzzuzzu My Pet is a group of four adorable friends, grooving to exciting rhythms. Boo – a Bichon Frisé puppy who will use anything as a chew, Tary the Ragdoll cat, a partying Golden Retriever named Kung, and Ta – a lazy Persian cat who likes to eat, sleep and play. They differ in species, breeds and personalities, but each is equally unique, and their friendship blooms. Together they make an inseparable and crazy pack, having fun and prancing to the lively rhythms of music.

The first games and apps in the Uzzuzuu My Pet series will be released on Nintendo Switch consoles as of the end of the first quarter of 2023. RedDeer.Games already plans to expand its portfolio with more productions featuring popular pets in future release years.

If you want to be up-to-date with RedDeer.Games projects, visit the official website, Facebook and Twitter.
ABOUT REDDEER.GAMES
RedDeer.Games (RDG) is an independent video game developer and publisher.

Awarded in the "Fastest Growing Gamedev Company in Central Europe" category. RDG is according to "Forbes" ranked among the Top50 Polish game producers.
---
About OOSSO Inc.
OOSSO is a character planning, development, and marketing company. 
Based on the planning and know-how accumulated through various project experiences in the domestic and overseas markets, the company is developing character business such as character licensing and distribution of character products.
The CEO JongSe Kim performed character licensing, merchandising, marketing, and promotion at Iconix for more than 10 years, and media platform and contents-related tasks at LG U Plus and SK Broadband for 13 years. It also has experience in distributing foreign animation characters in Korea.
In addition, Uzzuzzu My Pet won the Minister of Culture, Sports and Tourism Award at the 2022 Korean Character Awards.
LET THE FUN BEGIN